Courtesy:
Blackburn Rovers Official Website
Rovers triumph in girls futsal!
Rovers will head to the national finals after winning the North West regional finals
25 April 2018
Blackburn Rovers Community Trust and St Wilfrid's Church of England Academy were celebrating at the double on Tuesday!
St Wilfrid's represented Rovers in the EFL Trust Futsal U15 Girls Cup North West regional finals against four other teams. After winning three of their four group matches, the blue and whites ran out 4-2 winners against neighbours Accrington Stanley in the final to book their place in the national finals, which will be held in Derby next month.
A number of the girls who represented Rovers in the Futsal Girls Cup made the journey over to Doncaster that evening to cheer the first team on towards promotion to the Championship.
All in all, it was a memorable 24 hours and St Wilfrid's teacher, Mr Reeve, couldn't be any more proud of his players after their victory.
He said: "The girls played really well in all of the five games in order for us to reach the national finals next month in Derby.
"All the teams participating in the regional finals were at a similar level which ensured all the games were competitive and we thoroughly enjoyed the experience.
"Futsal is great as it has helped improve their close control and it has helped them play a sport on a regular basis.
"They love representing Blackburn Rovers Community Trust and a lot of our players were on the coach for the first team match at Doncaster Rovers.
"Blackburn Rovers Community Trust run a weekly training session for the girls were they do futsal and indoor football and it has helped strengthen the links between the school and the Trust."
The Trust's women and girls football development officer Andy Aspinall added: "St Wilfrid's have been absolutely brilliant and they represented Blackburn Rovers Community Trust really well. Their attitude and work rate was first class and they have some very talented players. We can't wait for the national finals now in Derby.
"This is the third year in the row the Trust has reached the national finals of this particular competition. It is a great opportunity now for the team from St Wilfrid's to play against the best teams from all over the country.
"We visit St Wilfrid's every Tuesday with our aim to encourage more girls to play football. The more they attend our sessions, the better they get and that has obviously shown as they've reached the national finals."
To find out more about the work Andy does, please email him on Andrew.Aspinall@brfctrust.co.uk.
Rovers triumph in girls futsal (Photo courtesy: Blackburn Rovers Official Website)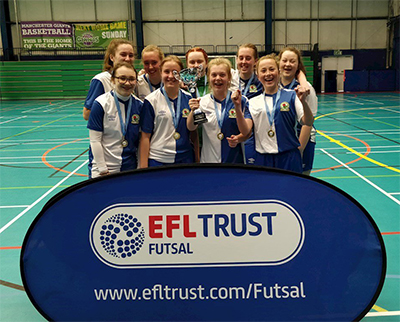 Posted by
Luca Ranocchiari
-->
luca.ranocchiari@futsalplanet.com