Report by Dusan Matic
Just finished the European Championship in Futsal in Slovenia gave a new champion - Portugal! Surely Ricardinho was the star of his team, the coach Braz led them greatly, but this time Portugal had a goalkeeper who was a great support to his team. Andre Sousa, on several occasions during this tournament helps Portugal on his way to a gold medal with his great saves.
This European Championship is specific because the goalkeepers played an extremely important role in their teams. It seems more than ever before, this Championship marked frequent medical interventions at the request of the goalkeeper in moments when the teams needed a break. From this point of view the influence of the goalkeeper on the match rhythm is obvious. The only replaced goalkeepers after the medical intervention were Portuguese Andre Sousa and Vitor Hugo.
When we talk about technical-tactical elements, there was a visible difference in the class among the goalkeepers. Once again has been confirmed that involving the goalkeeper in the team technically and tactically has become a necessity in modern Futsal.
The special impression of this European Championship was certainly by the goalkeeper of Kazakhstan Leo Higuita, who had a great influence on his team also in the attacking phase. He crowned this by scoring a great goal in the match against Spain. However, it looks like this aspect has had too much psychic influence on Higuita in that match and has reflected on his performance in his main role as a goalkeeper. However, the overall performance of Higuita in this Championship is for great respect.
Here you can see the details of the performance of all goalkeepers who had at least 2 appearances at the European Championship in Slovenia: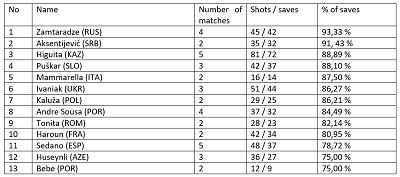 For your questions and comments you can contact me on e-mail:
dusan.matic75mail.com

FP Staff
-->
info@futsalplanet.com