Courtesy:
Taipei Times (extract from a larger article)
Taiwan women's futsal team set for AFC Championship
by
Jason Pan
The coach of Taiwan women's futsal squad is making final preparations and assessing players for selection ahead of the Asian Football Confederation (AFC) Women's Futsal Championship in Thailand next month.
"We have introduced some new concepts during training and the players are improving their teamwork," head coach Chang Yao-ming said yesterday.
Chang is being helped by experienced Brazilian assistant coach Adil Amarante after officials extended his contract to work with the women's team after he oversaw the men's team last year.
Taiwan's women on Sunday played Macau in a friendly and picked up an impressive 4-0 win, after which Chang said he is confident of getting good results against group opponents Vietnam, Malaysia and Bangladesh when the competition starts on May 2.
Test match for Chinese Taipei and first ever game for Macau women futsal team (Photo courtesy: CTFA)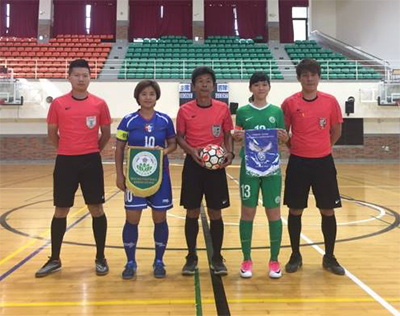 Posted by
Luca Ranocchiari
-->
luca.ranocchiari@futsalplanet.com