Manchester set to welcome international youth futsal in August 2018
Manchester's place on the futsal tournaments map has long seen the city welcome and invite youth and adult teams from around the world to the North West of England, and this August will be no different as the Manchester International Youth Futsal Tournament 2018 looks to provide a bigger and better offer for Futsal Clubs from around the world to be a part of.
Launched in 2017 to a youth club audience in the UK the tournament organisers are looking to broaden the interest from around the world for this year's gathering of youth futsal teams and coaches.
'Last year we were really wanted to see which clubs in the UK were ready to be involved in a high level youth futsal competition. The standard of the games and the atmosphere generated really told us that clubs were able to compete, so our job since then has been to think about how can we improve the offer and engage clubs from further afield'
'Youth futsal in the UK is really flourishing at present, but it needs high level competitions to really cater for clubs that are developing their youth programmes. Events like ours help to facilitate meaningful competition. We are in the early stages, but the plan going forward is to make this tournament one of the top youth futsal experiences for clubs to be a part of' explained Tournament Director Simon Wright.
Running from the 17-19th August and catering for U8, U10, U12, U14 and U16 boys age groups this year, the Manchester International Youth Futsal Tournament will be run over two venues in the city. Packages for accommodation and transport are all included in the tournament offer, along with sight seeing and extra training should the international clubs wish to look into this.
For further information please
visit
manchesterfutsaltournaments.com
or
email
tournaments@manchesterfutsal.com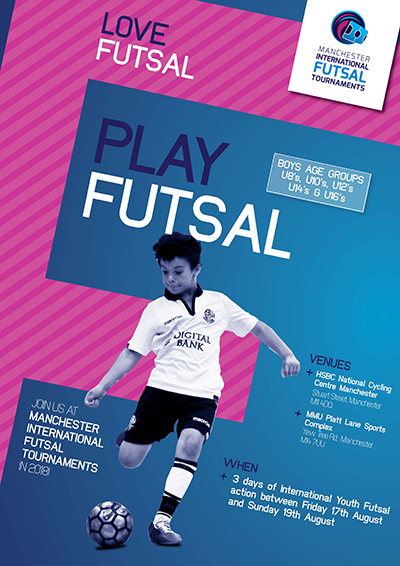 Posted by
Luca Ranocchiari
-->
luca.ranocchiari@futsalplanet.com