Report by
FutsalX
Special thanks to
Taku Kawai
and
Steve Harris
Photo: Tomoaki Watanabe
Tomoaki Watanabe experience. Hello Indonesia!
Hello! I am
Tomoaki Watanabe
. I made loan move to
Bintang Timur Surabaya
from
Fuchu Athletic FC
.
While in Indonesia I would like to write few columns.
May be some fans in Japan are surprise of this move. In my first column I want to explain why and how I became a player of
Bintang Timur Sruabaya
.
At first they give me an 2 monthes offer beggining from March 12. Bintang Timur had important match in March 10 and 11. They were at 5th in league table and had a match against 2nd place team on March 10 and 1st place team on March 11.
Kaoru Morioka
and I both had All Japan Championship match on March 9. So, it was impossible for us to join the team before March 11. After they found out our situation the team gave us a request that if we lose our match in Japan they wanted us to go to Indonesia on midnight flight at March 9 and play the match against
Black Steel
on March 11.
My team and Morioka's team both lost at match on March 9. So, we had to go to Indonesia on Friday night flight.
What surprised us was that even they took a ticket that day the given ticket was business-class one. Not much futsal players use business class.
We arrived in Jakarta at March 10 6 am. We had 5 hours transit time but could relax in business lounge.
After that we went to Jakarta to Lombok Island.
In Japan maybe, Lombok Island is not so farmiliar. Most popular island is maybe Bali Island. But everyone in Bintang Timur says Lombok Island is most beautiful Island in Indonesia. So if you have chance to visit Indonesia it may be good to visit there.
The first thing I thought when I arrived at Indonesia was hot.... I knew that it was hot here but because Japan is winter now it felt extra hot for me. But happily I was free from my severe hay fever at the first day.
Well I want to finish my first column here. Next time I would like to write about Indonesian futsal. See you!!
Tomoaki Watanabe: Hello Indonesia! (Photo: Bolalob.com)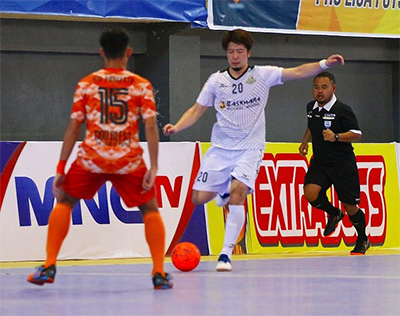 Tomoaki Watanabe: Hello Indonesia! (Photo: Bolalob.com)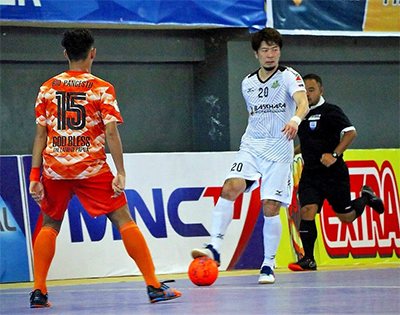 Posted by
Luca Ranocchiari
-->
luca.ranocchiari@futsalplanet.com