Coaching Children In & Through Futsal: a Parent/Coach GuideKevin Bryant
and
Daniel Berdejo-del-Fresno
have recently pubished an online free book entitled
"Coaching Children In & Through Futsal: a Parent/Coach Guide"
.
The book has been edited by
Asociación Didáctica Andalucía
and its ISBN is 978-84-939866-6-7. The book has 2 parts. One aimed to parents where
the authors try to educate parents about different aspects relevant to their children
such as the stages of childhood, the different stages of learning, coaching styles and communication, health, sport care and wellbeing.
The second part is dedicated to coaches to help them to design proper tasks, exercises, sessions and even seasons analysing the contents, the assessment of players, the coaching intervention, how to regulate the session and the communication with players. The authors also propose an progresive futsal plan.
Guillermo Wallace
, former Real Betis Futsal player (Spain), and current Prato Calcio a Cinque (Italy) and England Futsal International player had the honour to write the "Preface" of the book. Also, Movistar Inter FS and Spain International Futsal player, Adrián Alonso Pereira, known as
"Pola"
had the amazing gesture to write the "Prologue" of the book. Kevin and Daniel would like to thank Wallace and Pola for this great two parts of the book.
Kevin
would like to state:
"When I started this book little could be found on the Internet about futsal/football coaching, during the intervening years there has been an explosion of information. Even with this explosion I believe this eBook has a niche different to others as it identifies the coach, parent and player trinity. Thirty five years I have observed my children and grandchildren progress, during the same period I have moved along the coach pathway always wondering what the Holy Grail to football development was. It might be contained in that little word 'futsal'.

A special thank you to Doctor Daniel Berdejo-del-Fresno who has taken the trouble to add his world renowned knowledge to my grass roots journey.

I trust this book aids your parent/player journey."
Daniel
also would like to say the following:
"More than 3 years ago Kevin Bryant reached out to present me an old project he had. Kevin basically offered me to jump on his project... what he still calls "early ramblings" and I called "a superb guide" ended up in this eBook where Kevin and I combined different drafts that we both had. More than 24 months ago Kevin could have published this book on his own; however he waited patiently, never rushed me, always hoping that after all my journeys with the England futsal team and my adventures around the world I found time to finish it. Never demanding anything and for this reason I will always be grateful."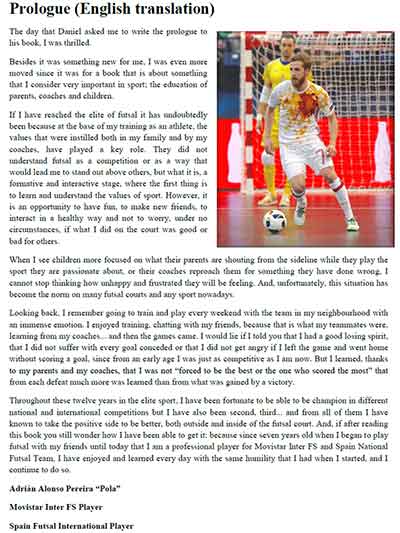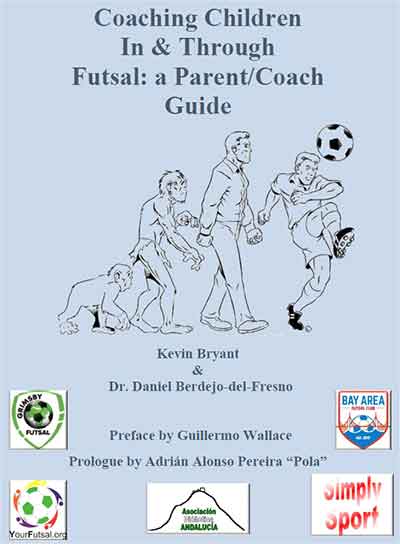 Posted by
Luca Ranocchiari
-->
luca.ranocchiari@futsalplanet.com