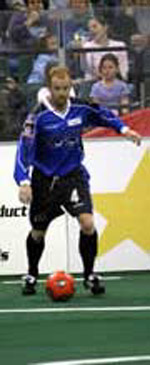 Details:



Player's profile:
Indoor Career: Will make Cleveland Force debut this season...2000-01: Saw action in 39 games and recorded a career-high tying seven goals and added nine assists for a total of 24 points...Tallied a career-best 44 blocks...Claimed second National Professional League (NPSL) Championship...1999-00: Appeared in 43 games and recorded a career-high tying six two point goals and three assists for 15 points…Had 32 blocks...1998-99: Was named to the NPSL All-Rookie team…finished eighth in voting for NPSL Rookie of the Year...Played in 40 games and netted a career-high tying seven goals while adding a career-best 10 assists for a career-high 25 points...Was fifth on the Wave in blocks with 38...Won first NPSL Championship.

Outdoor Career: Began his professional outdoor career with the Milwaukee Rampage of the A-League in 1997...Was a member of the A-League championship team during his rookie campaign...Has played a total of four years with the Milwaukee franchise.

College: Graduated from Wake Forest University with a degree in English...Was selected first-team All-Atlantic Coast Conference (ACC) on two occasions.

Personal: Was a member of the U.S. National Futsal Team that received a bronze medal in the CONCACAF Championships in Costa Rica in 2000...Enjoys fly fishing.